There were ten of us at the meeting where, to start with, Sabine announced that we had found a new meeting place which allowed us to book dates for several months ahead. This will give us the chance to book a speaker, when funds permit, which we have been unable to do so far. So if anyone knows of someone in the quilting world who preferably lives in the Greater London area who they can recommend then please let us know. The new venue is the Mansel Road Centre, in Mansel Road just up from Fielders Art shop on the left hand side. We will be meeting there on the 4th Wednesday of every month except December as below:-
July 24th
August No meeting due to holidays
September 25th
October 23rd
November 27th
December 18th

Sue announced that Alison had been coopted on to the committee and will be taking on the role of Membership Secretary from Annie. We have arranged our first social outing – to the Olive, an Italian restaurant in Raynes Park. It is near the 131, 57 bus route or possible parking in the Waitrose car park. We will be booked in for 7pm on Wednesday June 5th. Alison has taken names but if you missed the meeting and would like to join us, please email info@swlondonquilters.co.uk

After a few more dates were announced, see below, Regina started on her mini workshop in making fabric boxes. Most members had already cut out their cardboard shapes based on the hexagon templates sent out earlier. They then progressed to covering the sides with fabric and gluing them in place. There were lots of questions for Regina particularly about the gussets which led to peals of laughter when she showed us the Knicker Knot! I kid you not! It is a very secure but simple way of starting a line of stitching. See the instructions in the files area of the website. If members could bring their boxes along to the next meeting it would be good to see them.
After and during the coffee break we bought raffle tickets from Kathryn who was selling them for Project Linus. We also voted on the May Challenge which was to use a piece of brown patterned fabric. The range of entries, although small, was very varied – from a pictorial cushion cover to modern quilted pieces to an intriguing embroidered piece. The worthy winner was Karolina, whose picture of a brown horse on a cushion cover with impeccable applique and beautiful curved bias bindings was for her horse mad daughter. Lucky girl!
Winner of the brown fabric challenge

Brown fabric challenge

Brown fabric challenge

Brown fabric challenge

Brown fabric challenge

Brown fabric challenger

Brown fabric challenge
Then there was just time for Show and Tell. Annie showed us her sashiko cushion worked whilst in hospital. Not only sashiko but french knots were incorporated into the border.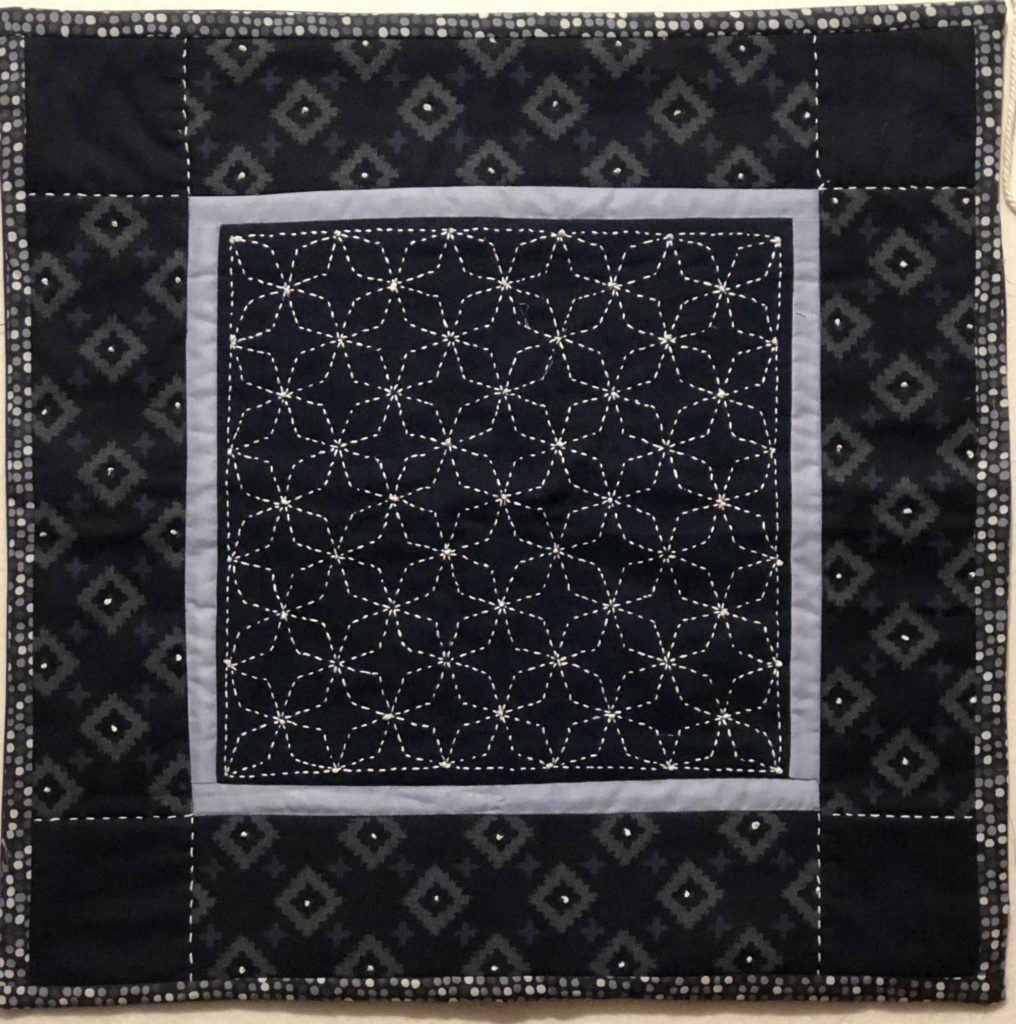 We also handed over to Alison our completed rows of Tiger Tiger blocks for the Group quilt. (Meg, who is away has the photograph we took at the last meeting in case there are any missing row labels).
Next was Alison with her latest work in progress – a double quilt with two different blocks repeated throughout. She had used her own free motion quilting design on each block and was now considering quilting the sashing. No doubt we will see it at a later date. Finally I showed the bunting I had changed to display the group name. I made the bunting many years ago and it has been in use for Camra's Battersea beer festivals, Garden Museum literary festivals and even a wedding. So I thought I could easily reuse some of it by bondwebbing the letters of our group name on to it. I used white fabric but think I will do a second set with black fabric. I am hopeful that we could use these for our first exhibition. (Nothing like being ambitious!)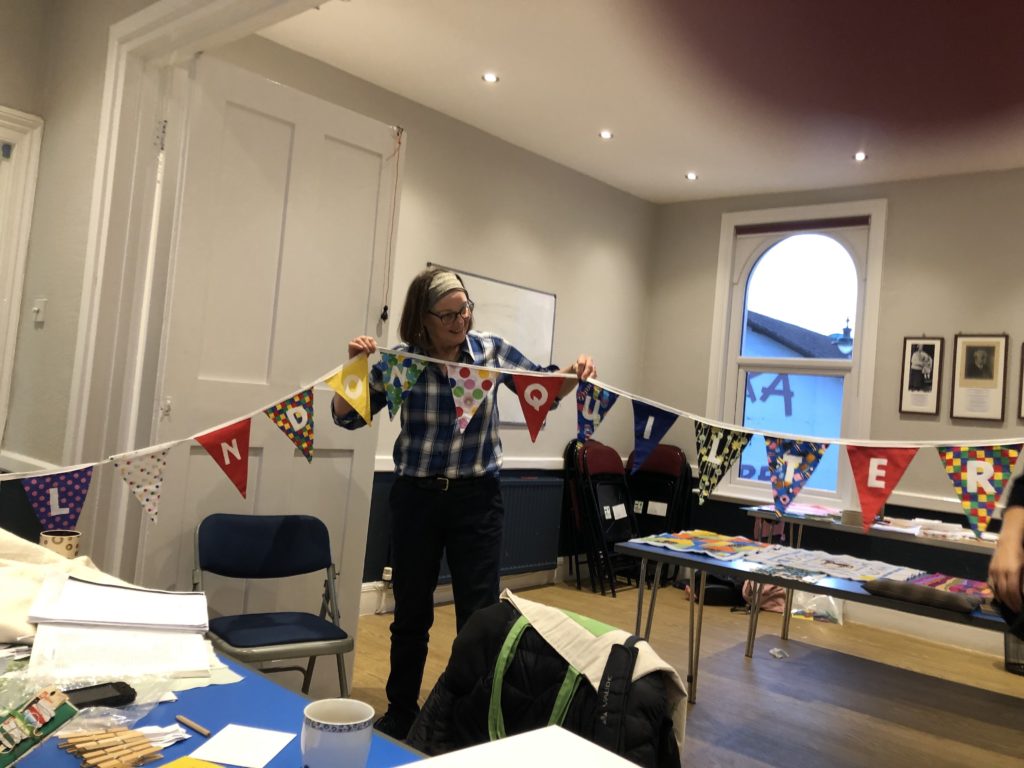 The Bi-monthly challenge for completion by the July meeting is to be based on light and dark. It should be no more than 20 square inches and when making it, the idea is to think about the use of contrasting colours in the design.
Dates for your Diary
June 5th Olive restaurant, Raynes Park 7pm
June 24th Next Meeting WMH 7pm
June 3rd – June 29th London Quilters Exhibition at Swiss Cottage Library
June 18th – 29th Menier Gallery, Southwark St, "Material Evidence" Quilt Art exhibition
June 21st – 23rd National Quilt Championships at Sandown RacecourseMay 29th – 9th June PRISM exhibition at the Arches, near Hoxton Underground