SWL Quilters plan to have a group activity picking Lavender and possibly combine this with a pub outing in July.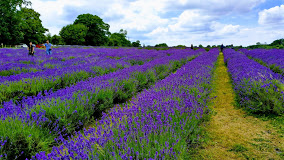 Lesley who has experience in this area, told us that the time to collect at Carshalton Beeches was the last weekend in July when they held the Carshalton lavender festival. https://www.carshaltonlavender.org
Requirements: Scissors and a bag to put the lavender in. You could pick as much as you wanted. You were then charged according to how much you had picked.
Another possibility would be to go to Mayfield near Banstead. https://www.mayfieldlavender.com You could walk through the lavender fields in June and go to the shop and purchase the lavender that you wanted.
Once purchased or gathered, the lavender needs to be stored in a pillow case in a warm dry place for several months until the flowers are ready to fall off their stalks.
Lavender could also be purchased on line for example the Daisy shop.