Linked to this post (below) you will find a list of things to bring with you to the next meeting on Monday May 20th, as well as the templates for the cardboard shapes needed for a hexagon shaped sewing box, which is the example that Regina has prepared for us to use.
It would be helpful if you can cut your cardboard shapes out in advance of the meeting, so that we will be working on these, rather than starting from scratch.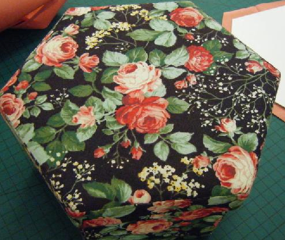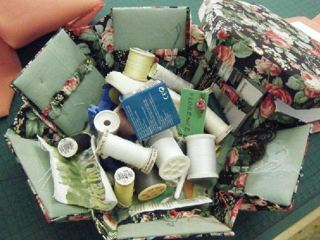 Mounting card or similar card weight (about 1.5 – 2mm thick)
This also depends on the size of the box (you might get away with a thinner card used for a smaller box).
You can also use thinner cardboard for the inside of your box (empty cereal boxes…)
Use the templates to cut out your pieces; it is best to use a craft knife if you have one, but check the size of the printed pieces first (check length and corners…) also check that the inside pieces are slightly smaller than the outside ones, it helps to label your cards.
Wadding – (if you like, but not too thick).
Fabric (to cover your cardboard)
The seam allowance is about 1 cm; a bit more if you use wadding.
Lining fabric
(to cover the inside cardboard, can be the same or a different fabric…)
Glue
to stick the fabric onto the board, this can be a Pritt Stick or fabric glue stick works very well: Sewline or Prym Aqua Marker (I bought one at Amazon….)
Stronger glue
(to stick cards together)
Pegs
(are very good if you have )
Thread
(to hand stitch, colour matching your outer fabric and if possible polyester)
Sharp sewing needles
bring a couple of long and short ones, so you can try out what works best for you.
We will be using a whip stitch to join the pieces together (stitches go through the fabric only)
If you make a sewing box you might want to bring:
elastic to hold a scissor and
and extra fabric for pockets inside and also the gussets!
Pencil, ruler, scissors…..